Innovating Solutions for Website UI UX Design and WordPress Development
We are a design team specializing in Website UI UX design as well as mobile applications, web development, and creative for social media marketing. Our team of experts is dedicated to creating innovative and engaging designs that meet our client's needs. Check some of our works.
Consultant Website Redesign
We're thrilled to present our latest project, Redesign a consultant website UI UX Design and WordPress Development seamlessly come together. Our goal was to create a modern and user-friendly platform that provides our clients with the best possible experience while showcasing availabilities and services.
We focused on combining the expertise of UI UX Design and WordPress Development to craft a clean and minimalist design that puts content front and center. Our dedicated team paid close attention to user experience, ensuring that the website is easy to use and navigate on all devices.
Gym & Fitness Website Design
We embarked on the project by leveraging our expertise in Website UI UX Design and WordPress Development to conduct a comprehensive analysis of the client's target audience, competitors, and industry trends. Drawing from our in-depth research, we meticulously crafted a custom design that seamlessly integrates modern website UI UX principles, creating an inviting and intuitive interface. Our design approach was underpinned by a dedication to mobile responsiveness, recognizing the significance of accommodating users accessing the website via their smartphones.
Throughout the entire design process, we maintained a robust line of communication with the client, ensuring a collaborative approach in translating their vision into reality. This synergy allowed us to not only meet but exceed the client's expectations and objectives. The culmination of our efforts resulted in the successful creation of a website that not only resonates with the client's brand identity and values but also delivers an unparalleled user experience for their members.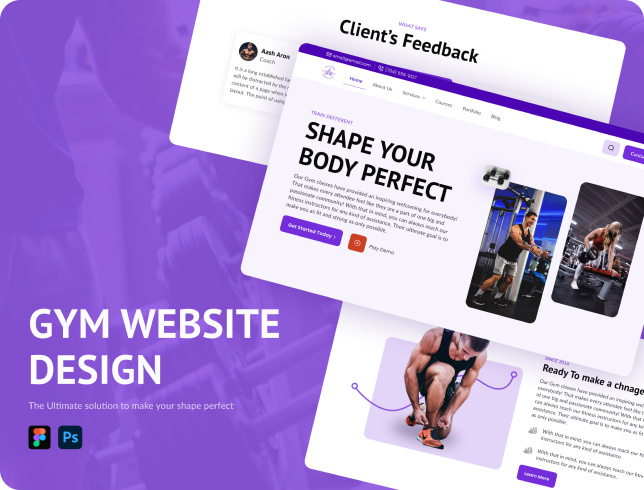 eMaids - Website UI UX design
Integrating the principles of UI UX Design, we embarked on a journey to craft a custom-designed website for eMaids, a distinguished cleaning and maid service establishment. Our paramount objective revolved around sculpting a digital platform that resonates with modernity, professionalism, and user-friendliness, all while elegantly spotlighting the exceptional services that eMaids offers.
The website serves as a testament to the synergy between aesthetics and functionality, meticulously presenting comprehensive insights into eMaids' array of services, ranging from residential and commercial cleaning to the meticulous art of move-in/move-out cleaning. Elevating the user experience further, we ingeniously devised a booking system, empowering clients to seamlessly schedule and manage their appointments online, thus enhancing convenience and engagement.
Non-Profit Charity Landing Page Design​
With a dedicated approach to Website UI UX Design, our objective was to sculpt a website that encapsulates visual allure, informative depth, and user-friendly navigation, all while seamlessly kindling visitors' enthusiasm to champion the organization's noble cause.
The landing page serves as an eloquent canvas where captivating visuals harmonize with compelling messaging, effectively communicating the profound significance of the organization's mission and, in turn, eliciting support through donations or active participation. In line with the user-centric principles of UI UX Design, we meticulously fashioned a streamlined donation process, manifesting as a simple and intuitive form. This thoughtful approach simplifies the act of contributing, fostering an environment where visitors can effortlessly make donations and ardently rally behind the cause.
Initiating the project, our strategy encompassed a thorough analysis of Ape-x's target audience and competitors, alongside a meticulous exploration of contemporary design trends within the technology sector. Leveraging the tenets of website UI UX Design, our derived insights culminated in the creation of a bespoke design that harmonizes modernity, visual allure, and seamless navigation.
The website serves as an eloquent manifestation of these principles, housing an extensive repository of insights into Ape-x's offerings, complete with in-depth descriptions and meticulous technical specifications. Embracing the core ethos of UI UX Design, we also integrated a dynamic blog section, poised to serve as a conduit for Ape-x to disseminate cutting-edge industry news and updates. Furthermore, a user-centric customer portal stands as a testament to our commitment to exceptional UI UX Design, offering clients an effortless means to manage accounts and access crucial support resources.
Annual General Meeting(AGM) - Event Design​
We had the privilege of collaborating with a leading organization to plan and design their Annual General Meeting (AGM) To begin the project, we took the time to understand the organization's mission, values, and goals for the AGM. We then developed a custom event design that captured their unique brand identity, while also providing an immersive experience for attendees. The event design featured a variety of engaging elements, including a custom-built stage and backdrop, eye-catching signage, and carefully curated lighting that created a warm and inviting atmosphere
Social Media Marketing Graphics Design
We are excited to share our recent project, a Social Media Marketing Graphics Design campaign that helped a prominent brand to stand out on social media and engage their target audience

The graphics design featured a range of elements, including visually striking images, vibrant colors, and clever use of typography to convey the brand's message and identity. We also employed various design techniques such as icons, illustrations, and infographics, to make the content more shareable and engaging for the audience.
Let's work together. Contact us for your design project.
107/5-ka, Mariali, Joydevpur, Gazipur Sadar, Dhaka, Gazipur-1700, Bangladesh
manager@pixelcertified.com
Please do not hesitate to contact. We will get back to you soon.